NSFD Welcomes two new bunk-ins..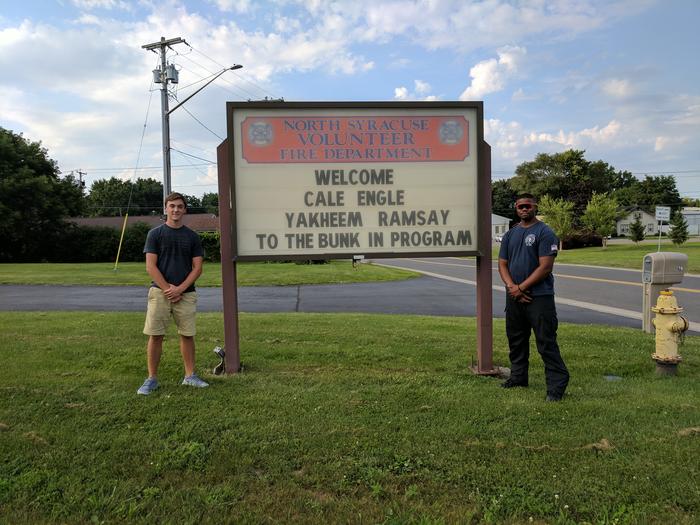 Monday, August 14, 2017
North Syracuse Fire Department welcomes two newly enrolled college bunk-in students:
Yakheem Ramsay - Ulster Hose Company #5
Cale Engle - Clinton Fire Department
This North Syracuse Fire Department Bunk-In program has been in operation since 1994 and is one of the most demanding programs among students attending local colleges. The "bunk in" housing program was originally designed for students who live outside Onondaga County and were enrolled in the Onondaga Community College Fire Protection Technology program. North Syracuse Fire Department has recently expanded its program. Any college student who is a current member of a Volunteer Fire Department in New York State and is attending one the local colleges in Onondaga County or the City of Syracuse qualifies for our Bunk-In program.
The North Syracuse Fire Department Bunk-In program is simple in design. In exchange for free housing at one of our two stations, the students provide staffing for emergency responses, attend weekly training, and perform light maintenance duties. Each station provides areas for the students to study with free access to computers, copy machines, and Wi-Fi. Our facilities offer clean bunk-rooms, bathrooms, showers, full kitchens, laundry machines and much more. Every student becomes an associate member of the North Syracuse Volunteer Fireman's Association which offers additional benefits including full access to our 24 hours a day fitness center.
Since the inception of the "bunk-in" program, the North Syracuse Fire Department has proudly provided housing for many college students who've graduated and successfully secured careers with many different emergency service agencies. We take pride in the success of this program and look forward to working with students in the future. If you are interested in learning more about the North Syracuse Fire Department College Bunk-In program please send an email to:
Recruitment@northsyracusefire.com
« Return to news listing