Village trustee participates with North Syracuse firefighters as they work on special rescue skills..
Wednesday, November 07, 2018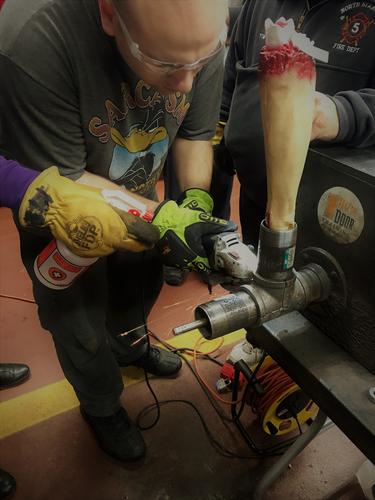 Take The Door Training is a group that provides training to firefighters all over the United States. North Syracuse Fire Department was fortunate enough to spend time with them this week as they provided some great special rescue training.

North Syracuse firefighters were challenged as they worked through specific scenarios that involved rescuing victims from machinery. Firefighters practiced cutting objects away from extremities trapped in machinery and worked on handling tools. One objective was to cut through a glass jar filled with a water balloon trying not to puncture or break the water balloon. Another involved extricating a hand and arm from a meat grinder.

Special thanks to Village of North Syracuse Trustee Artemas Steere who spent the evening and participated in the training with North Syracuse firefighters.
« Return to news listing